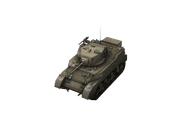 The M5 Stuart is a Tier III
American Light Tank.
The M5 Stuart entered production in April 1942. By June 1944 a total of 10,884 vehicles in two variants had been produced. The tank was used in all theaters of war.
At first, the M5 Stuart appears to be a minor downgrade from the M3 Stuart, with slightly worse armor and lower speed for more hit points. The biggest difference is the ability to equip the fearsome 75mm Howitzer M3. The M5's excellent speed and agility can be used to expose the thin rear and side armor of your opponents for maximum effect. Be warned though, its accuracy is poor, so come in fast, get close, and then get out of there. You can always come around for another pass from a different anglem using your small profile.
The M5 Stuart leads to the M7 and the M24 Chaffee.
Upgrades from-M3 Stuart
→
M5 Stuart
→
Upgrades into-

Chaffee

, M7
Main Characteristics
[
]
Tier
IV
Hit Points
340 HP
Weight/Load Limit
14.99 / 15.5 t
Price

143,000
Crew

Commander

Gunner

Driver

Radio Operator

Loader
Mobility
Engine Power
320 h.p.
Speed Limit
58 km/h
Traverse Speed
40 deg/sec
Turret Traverse Speed
44 deg/sec
Armor
Hull Armor (mm)

front 28
sides 28
rear 25

Turret Armor (mm)

front 38
sides 31
rear 31
Armament
Gun
37 mm Gun M6
Ammunition
147 pcs
Damage
30-50 HP
Armor Penetration
42–70 mm
Rate of Fire
26.09 rounds/min
Configuration
[
]
Turrets
[
]
Tier
Turret
Armor 

(mm)

Traverse Speed 

(deg/sec)

View Range 

(m)

Price 

(credits)

III
M5

front 38
sides 31
rear 31

44
370

1,890

IV
M5A1

front 44
sides 31
rear 31

44
370

5,580
Guns
[
]
Tier
Gun
Damage 

(НР)

Penetration 

(mm)

Rate of Fire 

(rounds/min)

Price 

(credits)

III
37 mm Gun T19
40/40/50
56/78/19
26.09

8,350

III
37 mm Gun M6
40/40/50
56/78/19
26.09

8,350
Engines
[
]
Tier
Engine
Power 

(h.p.)

Chance of Fire 

(%)

Price 

(credits)

IV
Twin Cadillac, Series 42
320
20

10,350

IV
Continental R-975-C1
350
20

10,500
Suspensions
[
]
Tier
Suspension
Load Limit 

(t)

Traverse Speed 

(deg/sec)

Price 

(credits)

III
VVSS T16E3
15.5
40

1,500

IV
VVSS T36E8
17.4
45

5,050
Radios
[
]
Tier
Radio
Signal Range 

(m)

Price 

(credits)

VI
SCR 508
395

21,600

IX
SCR 506
615

33,600